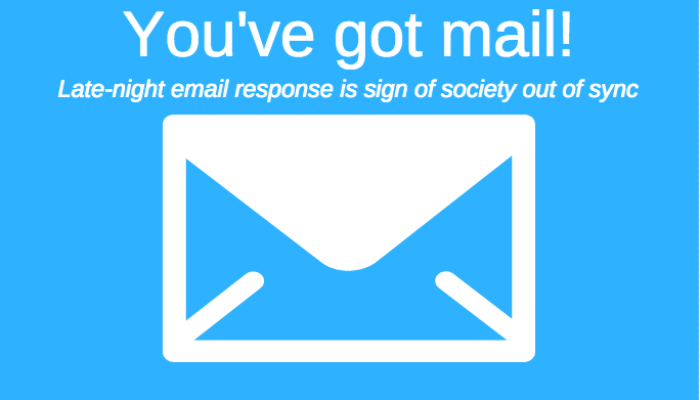 By Jan Risher
Ever get an email late at night from your boss?
Did you read it or wait until morning?
Were you aggravated at the invasion of your privacy?
If you were, you are not alone.
Shift Key recently conducted a survey to get a gauge on people's attitudes toward when work emails are received/sent — and the results surprised us. According to our research, 31 percent of those surveyed have a negative reaction to work emails sent after 6 p.m.
And the irritation level goes up from there.
41 percent of those surveyed have a negative reaction after 7 p.m.
58 percent have a negative reaction after 8 p.m.
68 percent have a negative reaction after 9 p.m.
72 percent have a negative reaction after 10 p.m.
We'll admit it. We were surprised by the results. With employees based all over the country, late night emails are a normal part of the way we work — and it works for us. So we were confounded by the survey results and contacted Mark Carrigan, a digital sociologist and social media consultant based in England, to see if he could shed some light.
Carrigan said the issue is bigger than when emails are sent or received. The issue is that we have a "desynchronized society," according to Carrigan. For some people, emailing late is an expression of freedom. Others want to keep work from creeping even further into their personal lives.
"Technology has offered more channels to communicate but fewer guidelines on how to use them — and it's created a situation of profound confusion," Carrigan said.
Initially, we wondered if there were generational norms in the attitudes about when an email is sent or received, which Carrigan dismissed.
"Sometimes we blame problems on generational differences, but do you know there are more differences within millennials than between millennials and another generation?" he said. "My instinct is to locate this on work patterns rather than generational patterns," Carrigan said.
France has attempted to control the ever-creeping email issue by creating new laws that ask companies with more than 50 employees to create "a charter of good conduct" that sets hours, typically evenings and weekends, when staff are not to send or answer emails.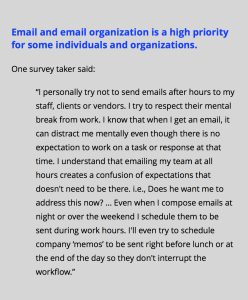 "Employees physically leave the office, but they do not leave their work. They remain attached by a kind of electronic leash — like a dog. The texts, the messages, the emails — they colonize the life of the individual to the point where he or she eventually breaks down," said Benoit Hamon, French politician and champion of the new regulations, according to the BBC. 
Carrigan said he doesn't believe the French email police will be successful in the effort to reduce stress.
"It's a bit like using a sledgehammer to crack a nut," he said. "Such regulations are much more likely in France or the Nordic countries rather than the U.S. or the U.K. Peoples' working lives are becoming less and less synchronized. It means different things to different people to send an email in the evening. The real solution will come when society norms catch up to technology changes and establish new ones."
An example of a general society norm of years' past, related to the telephone, is that eventually, in polite society, social etiquette required that phone calls not be made to another's home after 9 p.m. At present, technology is changing so fast that hard and fast etiquette "rules" do not exist.
One survey taker said, "I really don't look at the time an email was sent.  I am completely neutral on the matter."
While another said, "As I receive emails on my phone, and sleep with my phone next to me in case of emergencies, emails arriving after I've fallen asleep sometimes wake me. My friends don't email at very late hours, generally speaking. To have professional contacts who do is disruptive and unwelcome."
So, the question remains, why do some people see email as a handy way to communicate with others — while others see it as an intrusion on their lives?
"It's not just about the technology," Carrigan said. "In a way, it's not about the technology at all. It's about how we craft a rhythm of life that is sustainable. There used to be a time when the rhythm of daily life was synchronized by work, school or media. Now, we don't have a way to unite the rhythms of life together — and that reduces the social discourse. Technology is emerging so fast that it's hard to keep up with the questions."
About this research and story
If case you're wondering why we researched and wrote this story, the simple answer is that Shift Key's staff works virtually across the country. More than half of our small staff tends toward night owl work habits. Between the West Coast/East Coast time zone differences and late-night proclivities, we send emails around the clock. 
One of our staffers began to ask if late-night emails were OK and/or read. She had worked with someone a few years ago who said email sent after 11 p.m. was usually junk. "I just delete it," her colleague had said about email received around the midnight hour. Curious, we began to ask about it and decided more research was in order. The time email is sent/received still doesn't matter to us, but we learned that it certainly matters to some much more than we imagined!
After our research numbers came in, we needed someone who could help interpret what the data meant. Jan Risher suggested looking for a sociologist who specializes in workplace behaviors and communication styles. We discovered Mark Carrigan early on, but he's a busy fellow with lots of obligations. We were honored he took the time to speak with us and make sense out of our data. 
Shift Key believes in researching and writing thought-provoking white papers, articles, newsletters and blogs. Our team of writers are trained and ready to write about whatever topic is in front of us (though we did draw the line last week when the chance to write about anal whitening fell into our laps). We've written about consumer package goods, oil field services, cosmetics, the working poor and a wide range of other topics. If you've got a writing project, give us a call to discuss.
About Mark Carrigan
Mark Carrigan is a sociologist and academic technologist based in England. Among his many blogs and projects, he is the founding editor of the Sociological Imagination, one of the world's most popular Sociology websites. He has been a regular blogger for more than a decade. He's also a prolific podcaster, having produced nearly 200 podcasts in a range of capacities. He is former editor of the London School of Economics British Politics & Policy blog, part of the LSE Public Policy Group's award-winning engagement initiatives. He is responsible for The Sociological Review's social media presence, during which time it has become one of the most visible scholarly journals on social media.
Carrigan's research has always been driven by a desire to engage with wider publics. His work has been featured in The Guardian, Vice, BBC News, The Atlantic, The Times, Huffington Post, The Observer, The Herald, The Metro US, BBC News Magazine, The Scotsman, Wired, Glamour, The Straits Times, Guardian Higher Education and many smaller online and print outlets internationally. He's been interviewed by BBC Radio 4, BBC 3, Newstalk, RTL Belgium and BBC Coventry & Warwickshire. He also regularly consults with journalists, curators and activists who seek his support as a researcher.
At Shift Key, we make communication capital. We are journalists who know how to create original content, the foundational layer of digital marketing. We understand audience and the information your audience wants — whether you are an agency, brand, company or nonprofit. Content is the bedrock of digital marketing. Shift Key creates unique and informative content that feeds marketing activities across a mounting number of channels, generating buzz for brands and leads for products and services.