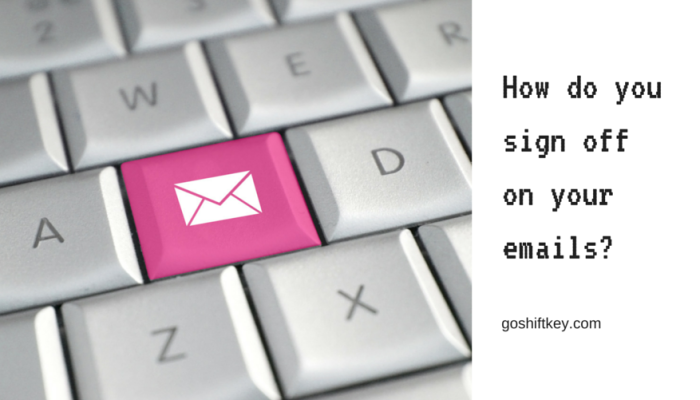 Take a look at your inbox.
If you're anywhere close to the average business user, you send and receive around 125 emails a day. The total number of worldwide email users stands at over 4.1 billion, with over 108.7 billion emails sent and received each day, according to a study.
It's little wonder, then, that email marketing has been touted as the most effective digital marketing tactic in repeat years. In your mix of various content marketing tools, email still provides the greatest ROI and is the easiest tactic to execute.
Whereas you may have started with an AOL or Hotmail account back in the 1990s, they are rarely spotted now, replaced with MSN, Gmail, Yahoo, Mac, etc. And, you likely have a minimum of two email accounts which you actively use.
We are so inundated with emails that we may have become complacent, even formulaic, with how we write them.
Now, go back to your inbox. How do you sign off on your emails?
If you're using "best," according to a Bloomberg article which has gotten a lot of traction this week online, you're not really giving it "your 'best.'" In fact, Liz Danzico, NPR creative director and blogger on email communication, says using "best" has over the years gone from safe or "benign," to mutating "like a virus" into many unpalatable forms ("all my best," "very best," etc.).
Here's a list of alternative email sign-offs and criticisms as presented by the Bloomberg article (but summarized in my words):
Yours = too sappy; should have Xs and Os following it
Warmest regards = too flowery
Thanks = what are you really saying thank you for?
Sincerely = yes, I meaningfully and soulfully attached these boring charts you have to fill out
Cheers = are you British?
This doesn't leave us with many options, does it?
Of course, we could just not use anything, as business etiquette coach Barbara Pachter suggests, which occurred more routinely when email was first introduced in the 90s. She says emails were originally intended to function like business memos with no salutation or closing.
I disagree with the Bloomberg article and the implied irritation over this matter. First of all, the article references a study which was conducted in 1993. Second, I am personally guilty of using "best," "thanks," "thanks so much for your time," or even "enjoy the rest of your afternoon." It all just depends on the context.
And, shouldn't the best communication tools be malleable, taking into account several variables, not the least of which is "how well do I know this person," and "what is the purpose of this communication"?
Why the hate on "best"? How about "good enough" or "sent from my iPhone (so please extend me a pass on typos)"?
I'm apparently not in the minority when I admit I am more judgmental about misspellings or grammatical errors in formal business emails, than I am about whether you put too little thought into your sign-off.
More on this in a future blog along the lines of what your emails say about you. There's so much juicy data out there on this one!
In the meantime, have fun reading this list of 89 email sign-off options (which coincidentally says "best" is still "best").
Sources: The Radicati Group's Email Statistics Report 2014-2018; MarketingCharts.com, Ascend and Research Partners
At Shift Key, we make communication capital. We are journalists who know how to create original content, the foundational layer of digital marketing. We understand audience and the information your audience wants – whether you are an agency, brand, company or non-profit. Content is the bedrock of digital marketing. Shift Key creates unique and informative content that feeds marketing activities across a mounting number of channels, generating buzz for brands and leads for products and services.