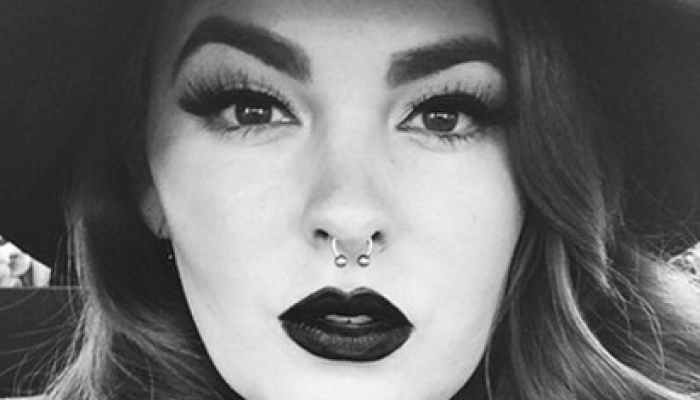 As the first in our three-part "trend watcher" series last Friday, we asked what role social media has played in questioning our traditionally held standards of beauty. Particularly, who or what is leading the charge — what almost seems a movement as of late — saying "we have had enough" when it comes to unrealistic media standards for women?
We're pretty sure a gal named Tess Holliday has something to do with it, and she is maybe even holding the megaphone. This girl is everywhere! You've seen her on The Today Show, People, CNN, you name it. But you were likely drawn to the content not by the headlines — largest plus-size model inks top agency contract — but by her gorgeous if not controversial photos.
A plus-size model originally from Mississippi, Tess worked as a make-up artist and model in Seattle before permanently relocating to Los Angeles in 2010. She began posting YouTube videos, making headlines and had racked up 900K+ social media followers long before she was actually ever signed to a major modeling deal. She had already started the online movement #effyourbeautystandards when London's elite agency, MiLK Modeling Management, took note and offered her a deal with their Curves division in January.
Tess is 5'5" and size 22 in an industry that is dominated with size zero — plus-size models are usually about 5'8" in the 8-16 size range. Yet she is garnering attention not so much for her size as her unabashed and inspiring confidence. She currently has about 519,000 Instagram followers, where the haters crank up as regularly as her fans. Fed up recently, she posted, "To the critics, I will tell you what I DO promote: positive body image and loving yourself when you look in the mirror today. My goal is changing the negative thinking, the prejudice, NOT the person…p.s. I'm fat and still fly as hell."
It's hard to imagine that this trend — and perhaps even her success — could be possible without social media. The conversation upending media stereotypes of women is happening. And the times they are a-changin'.
Oh, and p.s.? You go, Tess!
At Shift Key, we make communication capital. We are journalists who know how to create original content, the foundational layer of digital marketing. We understand audience and the information your audience wants – whether you are an agency, brand, company or non-profit. Content is the bedrock of digital marketing. Shift Key creates unique and informative content that feeds marketing activities across a mounting number of channels, generating buzz for brands and leads for products and services.