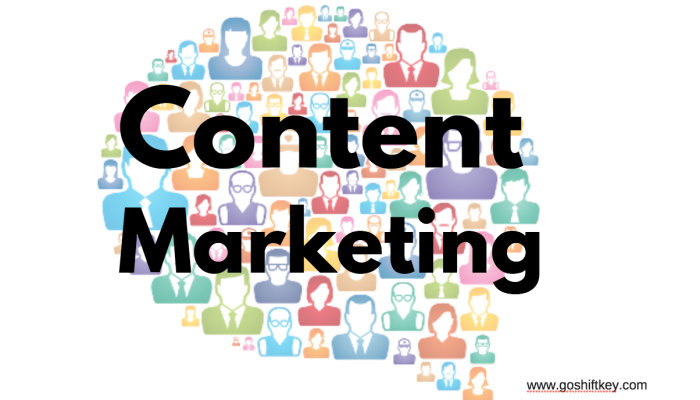 When we tell folks that Shift Key is a content marketing and PR agency, we still get a lot of questions about the "content marketing" part. 
Loosely, content marketing is any marketing effort that shares media or publishes content — ideally "valuable, relevant and consistent" content to help companies attract and retain customers. "Content marketing" was first bounced around as a term in the late 1990s and has rapidly evolved with the proliferation of social media in the last couple of decades. Brands have become publishers with an endless queue of content demands across dozens of channels. 
Marketing research firm Ascend2 released a mid-year snapshot at the end of last month. Their "2016 State of Content Marketing" report provides great insights as we answer questions like, "Where do I get the biggest bang for my buck with content creation?" (Spoiler alert: It's blogs!)
Other key take-aways:
66 percent of companies consider their content marketing successful, but they 

indicate it's time-consuming and requires commitment to compete with the top 16 

percent for best-in-class status.

The most significant barriers to success with content marketing are lack of an effective 

strategy and the lack of resources required to create content — often caused by budget 

constraints.

The most important goals of a content marketing strategy are increasing lead generation and improving customer engagement (for 58 and 55 percent of 

companies, respectively).

89 percent of companies say their content marketing effectiveness is increasing.
72 percent of companies outsource some or all of their content creation. This is 

due largely to the difficulty in executing many forms of content. 

Videos/podcasts, research reports, and webinars are listed as the three most difficult forms of content to create, in that order. 
If you are limited with budget constraints, it might be advisable to first assess where the best "value" is, in terms of difficulty to effectiveness when creating content, best seen here: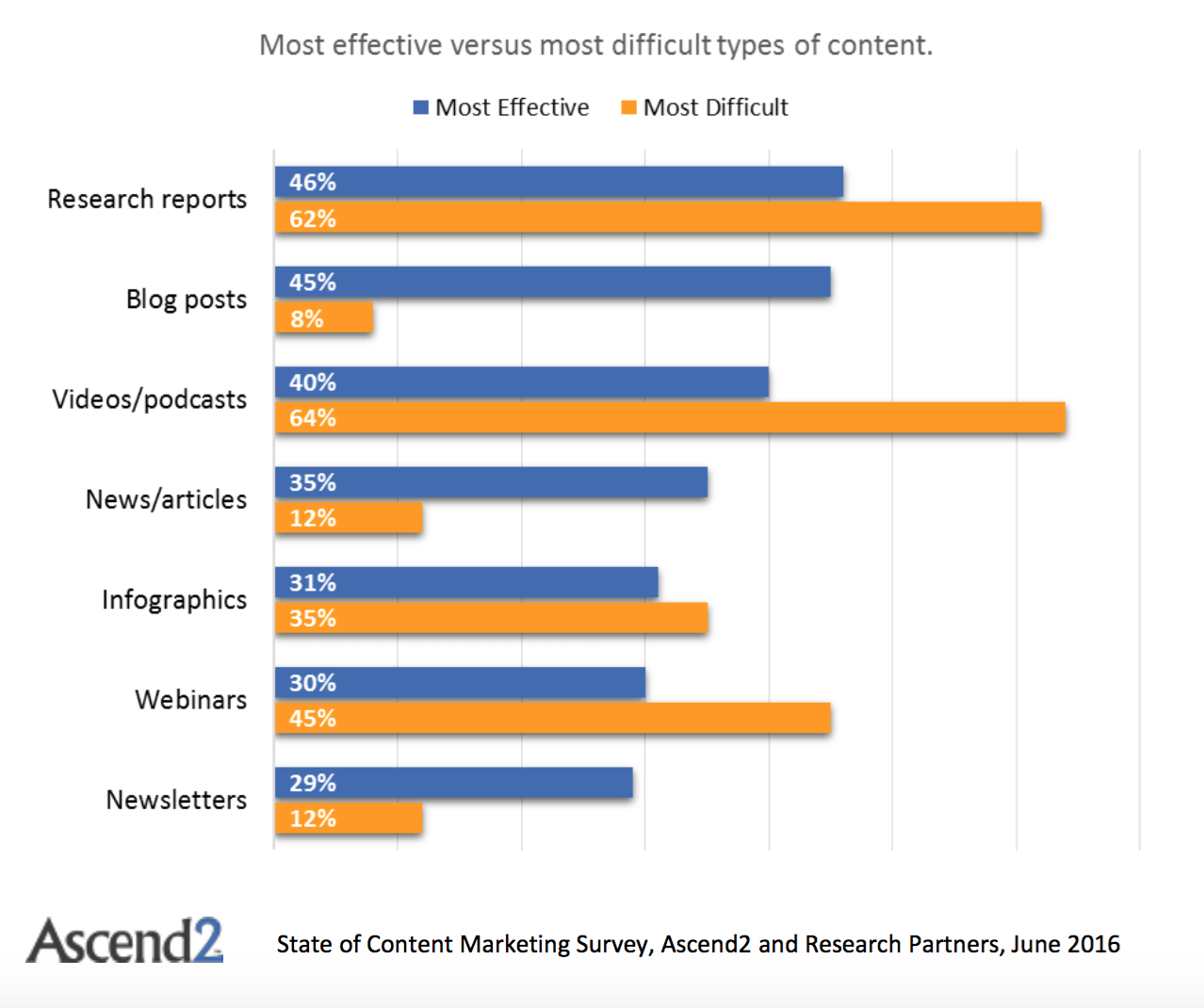 This may look different for your organization, based on your internal talent and resources.
In predicting top trends driving the future of marketing, Forbes Magazine may have said it best: "The need for good content will not slow down. Ever."
___________________________________________
More recommended reading on content marketing:
Content Marketing Institute's 2016 benchmark report, published Sept. 2015
What is content marketing? Ad Age's take
75 examples of stellar content marketing: Martin Guitars' Journal of Acoustic Guitars, to Cleveland Clinic's infographic about the color of your urine that has been shared over 1.8 million times worldwide
"History of Content Marketing" video
___________________________________________
At Shift Key, we make communication capital. We are journalists who know how to create original content, the foundational layer of digital marketing. We understand audience and the information your audience wants — whether you are an agency, brand, company or nonprofit. Content is the bedrock of digital marketing. Shift Key creates unique and informative content that feeds marketing activities across a mounting number of channels, generating buzz for brands and leads for products and services.