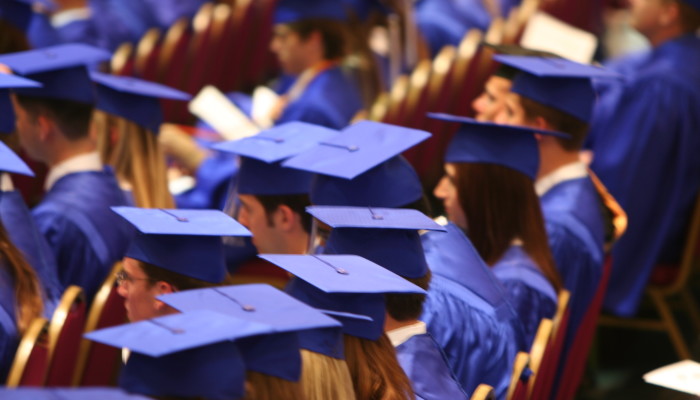 Millions of students across the country are preparing to say farewell to youth and hello to the world of adulthood. Although graduation is a joyous celebration and a major event in life, there's more to the commencement ceremony than just throwing a mortarboard in the air.
Students work hard for this one shining moment, but the work is far from complete. Whether they're going on to college, or creating résumés, interviewing for jobs and finding mentors, the next step is just as, if not more important, than the last.
Graduating top of the class requires more than just pomp and circumstance in school and in business.
In fact, throw out the textbooks altogether when it comes to building a business in the new millennium. Traditional advertising and promotions are on a Darwinian decline in the digital age. Content marketing — an approach focused on creating and distributing relevant, valuable and consistent information to attract and retain a market — is the BMOC these days.
Although content marketing, which includes articles, newsletters, blogs, direct mail and social media, may seem more like an intangible extra than an essential in the business world, consumer behavior is forcing Fortune 500 companies and mom and pop shops alike to look at how they spend their marketing dollars.
More popular than porn
If you think Facebook, Twitter, YouTube and LinkedIn aren't important, think again. Social media has significantly changed the climate of the Internet. In fact, social media is even more popular than online pornography — a peculiar milestone, but significant nonetheless. For years, pornography ruled the online world. Around 40 million Americans are regular visitors to porn sites, and the Internet porn industry makes $2.84 billion per year in the United States alone. Despite those huge figures, social media is now bigger. This is but one example of how everything you thought you knew about how to reach consumers has changed dramatically in the past decade.
Much like education should be a lifelong pursuit of knowledge, business is an expedition without a map or GPS. As the world changes, top businesses are learning to adapt, change direction and thrive.
Getting a degree is only the start of becoming a successful professional for a new graduate. Getting ahead requires the ability to market yourself.
14 ways content marking has changed the business world
Brands that create 15 blog posts per month average 1,200 new leads per month.
The average return on email marketing investment is $44.25 for every dollar spent.
39 percent of marketing, advertising and communications budgets will be dedicated to content marketing this year.
$118.4 billion is spent per year on online advertising, including content marketing, video and social media.
30 million businesses now have a Facebook Fan Page.
93 percent of marketers use social media for business.
28 percent of marketers have reduced their advertising budget to fund more digital marketing.
57 percent of marketers have made content marketing a top marketing priority.
60 percent of marketers use content marketing on a weekly basis.
Only 32 percent of marketers say they are effectively executing enough content.
62 percent of companies outsource their content marketing.
82 percent of marketers who blog see a positive return on the investment.
The average cost to generate a lead through inbound marketing is $143. (That is about half the average for outbound marketing, which is $373.)
Marketers are forecast to spend $2.4 billion on email marketing by 2016.
Sources: Altimeter Research, eMarketer, Hubspot's 2014 State of Inbound Report, Fast Company, The Content Council, salesforce.com, icontact.com, dailyinfographics.com, Facebook, Content Plus Marketing, The CMO Survey, Gartner, Content Marketing Institute, Bloomberg Business, Consultancy, AOL, Nielsen, Fortune, Pew Reports, PC World and Effective Marketer.
This article originally appeared in the May edition of our e-newsletter, Beyond the Keyboard.
To sign up to receive our emails, fill in the following fields and hit submit. Thanks, and welcome!
At Shift Key, we make communication capital. We are journalists who know how to create original content, the foundational layer of digital marketing. We understand audience and the information your audience wants – whether you are an agency, brand, company or non-profit. Content is the bedrock of digital marketing. Shift Key creates unique and informative content that feeds marketing activities across a mounting number of channels, generating buzz for brands and leads for products and services.