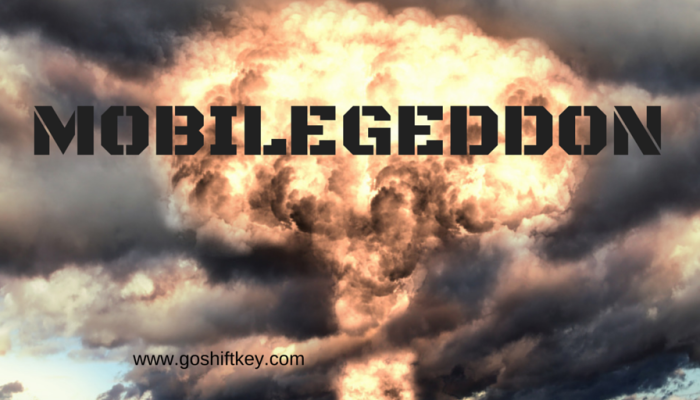 It's the dawn of Mobilegeddon. Is your website's SEO ranking burning in the rubble or rising like a phoenix from the ash?
Today, Tuesday, April 21, an edit to Google's mobile search algorithm went live, changing the rank in which websites are listed. The new formula favors mobile-friendly sites, which should include such elements as larger text, clearly spaced and easy-to-navigate links, and resized photos, among other factors.
The algorithm change only affects Google searches from mobile devices and will not affect searches from desktop computers or tablet devices. The aftermath could still spell disaster of apocalyptic proportions however, for businesses that don't have mobile-friendly websites — thus the Mobilegeddon moniker as it was dubbed by a tech blogger last month.
During the last major Google update, called Panda 4.0, eBay lost about 80% of its best search listings, and all global search results were impacted by 11%. Slipping in the SEO ranks from first to even a ninth place finish could mean thousands of dollars in lost revenue.
Here at Shift Key, we have talked about what we do (content marketing) as it relates to SEO — we are journalists who develop all types of content, digital of which is the no. 1 way to increase your SEO.
While website developers don't argue that content is still king, they are saying that when it comes to SEO on mobile devices, user interface is becoming increasingly important. In essence, you can have the right content, but what good is it if people can't read it clearly?
These sorts of system updates happen periodically at Google in an attempt to rid your search results of spam, thin or useless content — yet another good reason to invest in a content marketing team like Shift Key to help create high-quality digital content for your brand.
It's been predicted that small businesses will take the biggest hit from Mobilegeddon, but that many major brands like Nintendo, Dyson and American Apparel could feel the shake-up as well.
Why is this such a big deal? Google is still the world's most popular search engine, used by 69% of search engine users, and it outperforms the next top three competitors by roughly 4X, 10X and 12X respectively. Around 60% of online traffic now comes from mobile. So the Mobilegeddon threat is real, folks.
Test your URL here to see how your website fares.
GoShiftKey.com received a test result of "Awesome! This page is mobile-friendly." Thanks to WordPress, we are one of the small businesses who should weather the storm ok today.
Don't fret if you receive a "not mobile-friendly" designation, however. Google provides specific feedback with a link of resources for how to fix potential issues.
At Shift Key, we make communication capital. We are journalists who know how to create original content, the foundational layer of digital marketing. We understand audience and the information your audience wants – whether you are an agency, brand, company or non-profit. Content is the bedrock of digital marketing. Shift Key creates unique and informative content that feeds marketing activities across a mounting number of channels, generating buzz for brands and leads for products and services.