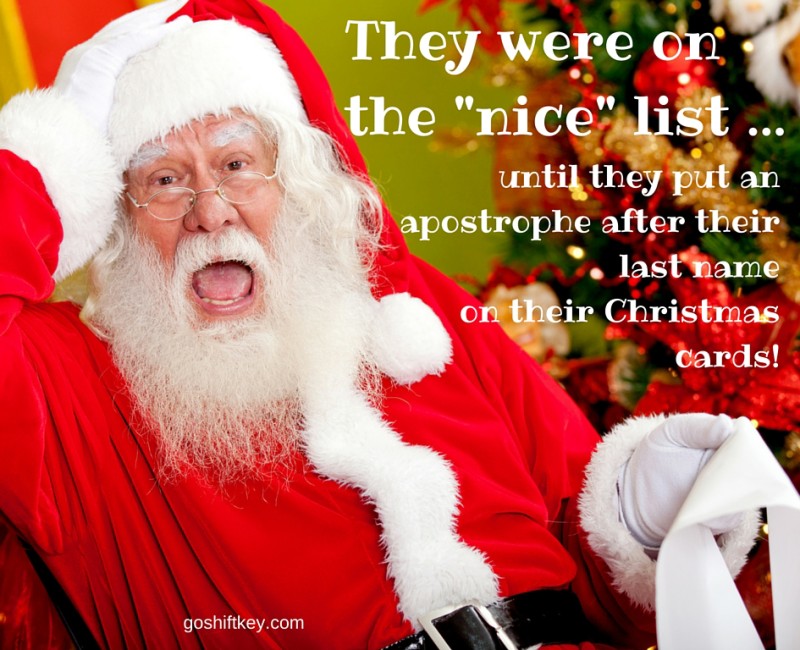 It's the most wonderful time of the year for sending holiday cards to friends, family and clients — and unfortunately one of the most embarrassing times to commit crimes against the misuse of apostrophes.
Imagine the horror to realize — only after mailing paper cards or pressing "send" on your digital ones — that you mistakingly made your last name possessive. Since most people sign cards on behalf of a family with the intent to make their last name plural, rarely do people need an apostrophe in their holiday greetings.
Here are five tips to keep your good standing on Santa's (and the grammar police's) "nice" list when it comes to making your last name plural on holiday cards:
(1) Simply add an "s" to make your last name plural — unless your last name ends with s, x, z, ch or sh, in which case you add "es."
Merry Christmas from the Joneses
(2) If your last name ends in y, add "s." Do not add "ies." Do not add an apostrophe. Do not pass "go." Do not collect $200.
Season's greetings from the Poliskys
(3) If your last name ends in with an "s," as stated above, simply add "es."
Happy holidays from the Simmonses
(4) The only circumstances under which you need an apostrophe are to make your last name possessive.
The Boyetts' dog, Buddy, is making a cameo as Rudolph in this year's photo.
(5) If you think the plural version of your last name looks or reads strangely, you can always add the word "family" as in "Happy new year from the Hernandes family." This is an alternative, fool-proof method no matter what letter your last name ends with.
Any questions? Feel free to comment below or send us a private message.
At Shift Key, we make communication capital. We are journalists who know how to create original content, the foundational layer of digital marketing. We understand audience and the information your audience wants — whether you are an agency, brand, company or non-profit. Content is the bedrock of digital marketing. Shift Key creates unique and informative content that feeds marketing activities across a mounting number of channels, generating buzz for brands and leads for products and services.