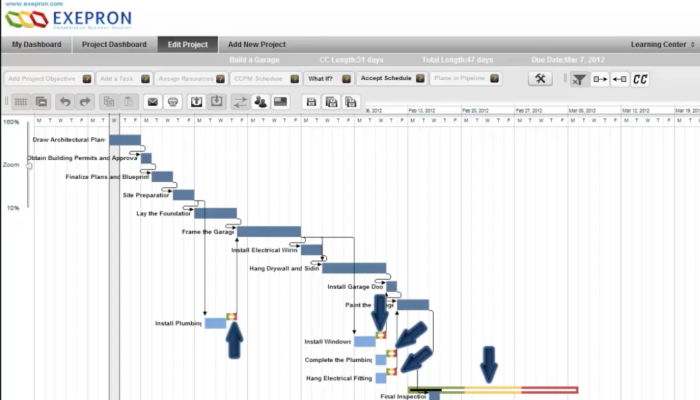 In part two of our three-part series on how to break through organizational bottlenecks, learn how project management software can make the invisible visible — decreasing production times and saving companies money.

Q&A with John Thompson, Co-Founder & COO of Exepron, a project management software solution based on Eli Goldratt's Theory of Constraints
Q: Tell us about your background in working with the Theory of Constraints?
A: The theory was created by Eli Goldratt, author of the best-selling business novel, The Goal. About 20 years ago, as a family, we were invited to the U.S. from South Africa by Eli to work at the Goldratt Institute in Connecticut. When Eli retired 18 years ago, I left to create a successful consulting business after spending five years with him at the Institute. The Institute provided the opportunity to work with many different industries, from marketing to production, distribution, project management, etc. It was here that I met the other co-founder of Exepron, Danny Walsh, 18 years ago. Danny was a regular participant at the Institute. He is an experienced executive having run multi-billion dollar companies and conducted multiple business turn arounds. We worked together, on and off over the years, before cofounding the company.
Q: What are the main bottlenecks you were hearing from customers?
A: Construction, healthcare, aircraft, shipbuilding, biomed and drug development — the biggest complaints we hear from our clients in these industries is that they haven't resolved how to address uncertainty and variability. Efficiencies must be in the 90th percentiles, or you're not in business in most industries. And yet, if you look at project management data, 50 percent of projects are either compromised by scope, due dates or budget. That's double the cost and double the time. It's unacceptable and unnecessary. So how do you better manage a system then? At Exepron, we take a wholistic view of the system, end to end, and identify the strategic constraints. In projects, the constraint is poor networks and the lack of real-time visibility of slippage, and this results in poor behaviors. Exepron makes what was invisible visible, predictive, and therefore manageable via our project management software.
Q: Can you give me some examples of how industries are using TOC and what your software does to improve productivity?
A: A shipbuilding company used our software to deliver a complete ship on time. Their customer commented it's the first ship in 45 years that they had seen delivered on time. 
Q: Tell us about the process of developing the software that Exepron offers companies? How long did it take to develop, and are you still fine-tuning it?
A: Exepron has matured after six years on the market, but we're never finished. We are adding features all the time. The basic methodology is still there, but it's become faster, quicker, aimed to provide Critical Information at the right time. In the past, we have used every sort of project management software out there. From that experience, we decided to build the PM application that users need. With Exepron we believe we've built a system that provides critical intelligence — current information and future information. So that's what we did. Exepron looks into the future to provide the user with an early warning system. Our software applies predictive algorithms to accomplish this. We have also exploited short learning cycles by leveraging technology. This includes rapid training and installation.
Take an advanced motorcar, for example. Do most people want to know how exactly it works? No, they just want to get in and drive. Our solutions are as obvious to drive as an advanced motorcar, easy to use, requiring no further interpretation. So we work very hard to keep all the complexity behind the curtain for the user. "Intuitive" is our guiding principle for Exepron's interface. People use our software and say, "It can't be that simple." Yes, it is. We've made it easy to use and manage complex IT development and integration, biomed, aircraft MRO, construction, shipbuilding, manufacturing and fabrication, and much smaller projects in the event management and business development space.
This article originally appeared in the January edition of our e-newsletter, Beyond the Keyboard.
To sign up to receive our emails, fill in the following fields and hit submit. Thanks, and welcome!
At Shift Key, we make communication capital. We are journalists who know how to create original content, the foundational layer of digital marketing. We understand audience and the information your audience wants – whether you are an agency, brand, company or non-profit. Content is the bedrock of digital marketing. Shift Key creates unique and informative content that feeds marketing activities across a mounting number of channels, generating buzz for brands and leads for products and services.