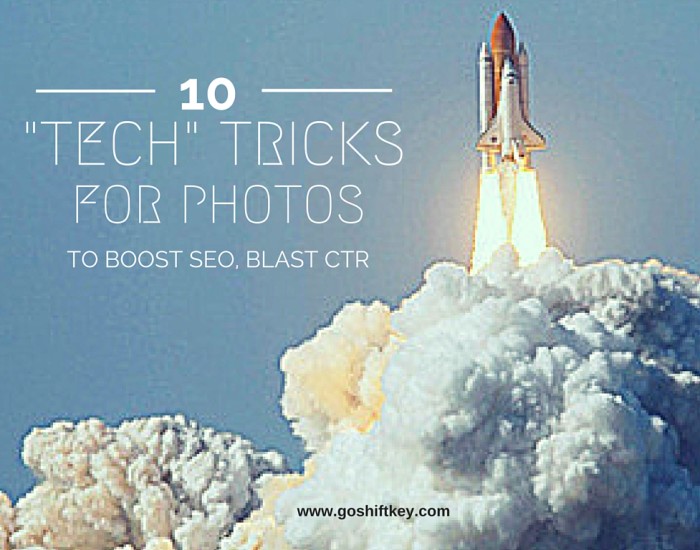 Content containing visuals yields more user interaction across all mediums, and earlier this week we shared 12 tips from pro photographers to take better digital photographs, from an artistic perspective, on your camera or mobile device.
While everyone loves a beautiful looking image, we would be remiss if we didn't present the other side of the coin — the technical one. Here are 10 back-end ways to optimize photos to boost SEO and blast click-through rate (CTR) goals:
Make sure your images (and text content for that matter) look good on both desktop and mobile devices, adjusting borders, margins, alignment, color and size as needed.

Refer to this guide (the most comprehensive and constantly updated we've found!) for various image dimensions on each social media site:

https://blog.bufferapp.com/ideal-image-sizes-social-media-posts

When possible, include "share" buttons for all of the various social media sites. Include "counters" to track pages or images, when possible, which may also encourage others to share.

When using an image on your website, for a blog or other content, make sure to fill in the file name, title, alt text and/or description fields. Viewers won't see this, but search engines will! (Note: rename the image file name to something relevant to your site or article before uploading — some platforms retain the original naming convention.)
Edit your photos, add text or make collages, using free or reasonably priced software. Here are some suggestions: http://www.creativebloq.com/design-tools/best-photo-apps-513764

When you take the time to make a custom graphic that could be shared on social media, include your company's URL in smaller font somewhere on the image, ideally somewhere that it can't easily be cropped out by someone else who wants to share (or steal!) your work.

If possible, make your image "clickable." Consider that all images on Pinterest are clickable. Because of its highly visual and highly shareable nature, Pinterest is now the fourth biggest referrer of web traffic. PR Newswire even recently added a "Pin It" button for the press releases they host. 

While images can boost user engagement with all types of content — social media posts to press releases — don't post an unrelated or inappropriate photo just for the sake of doing so. The photo should be relevant to your content.

Similarly, avoid ambiguous images that could possibly be misconstrued or read as "off-brand."

Post photos that tell your story without having to read additional content.
Have fun experimenting with both the artistic and technical tips we've shared this week and get back with us. We'd love to hear which tips yield the highest ROI for your content and organization!